Announcing the publication of The SAGE Encyclopedia of Trans Studies, edited by Abbie Goldberg and Genny Beemyn!
From the publisher's press release: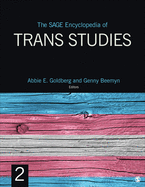 SAGE Publishing announces the release of The SAGE Encyclopedia of Trans Studies, a two-volume set featuring 300+ entries that examine experiences of the trans community across different subjects, cultures, and life stages.

Containing entries from over 300 contributors from the social & behavioral sciences and humanities, the encyclopedia takes an interdisciplinary and intersectional approach to examine discrimination, correct misconceptions, and increase trans awareness. Contributed articles examine key issues, including:
~ Instances of discrimination: cisgenderism, health care discrimination, and military bans
~ Key individuals: Harry Benjamin, Chaz Bono, Jazz Jennings
~ Organizations advocating for the trans community: interACT: Advocates for Intersex Youth, Lambda Legal, World Professional Association for Transgender Health
~ Major events: Stonewall Riots, Compton's Cafeteria Riot
[
Read the full press release on the SAGE Publishing website
]
In addition to serving as the project's co-editor, Genny contributed twelve entries to the two-volume encyclopedia. These entries cover a range of topics including viewing transgender through a historical lens, inclusion and exclusion of transgender people in the LGBTQ movement, crossdressers as a part of the trans community, campus policies and campus climate, and groups such as Tri-Ess and Transexual Menace.
[
Learn more about Genny's contributions to the SAGE Encyclopedia of Trans Studies.
]